The Giant Drop is an Intamin drop tower ride located at the Dreamworld theme park on the Gold Coast, Australia. The ride was added in December 1998 to the existing Dreamworld Tower which housed the Tower of Terror. For fourteen years, The Giant Drop held the record for the tallest drop tower in the world.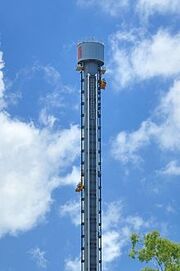 Construction of the Dreamworld Tower began in 1996. On 23 January 1997, the Tower of Terror officially opened to the public. Close to two years later, on 26 December 1998, The Giant Drop officially opened to the public as part of the Dreamworld Tower. Additional theming was added around the base of the ride and the Vintage Car track was re-routed around the base of the tower. The cost to build The Giant Drop, had the Dreamworld Tower not been already standing, was published at A$12 million. Over 5 million people have been dropped to date.
In mid-2007, concerns were raised over the safety of Intamin drop towers after an incident at Six Flags Kentucky Kingdom's Superman: Tower of Power ride where a teenage girl had her feet severed after a cable had snapped. Despite the incident, Dreamworld continued to keep The Giant Drop operating stating their ride's cables had daily and monthly checks. An independent safety audit concluded that "Dreamworld's safety standards are world class and second to none".