BuzzSaw is a Maurer Söhne SkyLoop roller coaster located within the Town of Gold Rush section of the Dreamworld amusement park on the Gold Coast of Australia. The ride began operation on 17 September 2011 as part of Dreamworld's 30th birthday celebrations.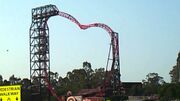 BuzzSaw is one of Dreamworld's "Big 9" thrill rides and has a track length of 150 metres (490 ft). The steel ride consists of a single train which holds 12 riders and lasts approximately 50 seconds. BuzzSaw features the tallest inversion in the Southern Hemisphere and is currently the second-highest inversion of its type in the world.
The ride is themed around a series of unexplainable occurrences in the Town of Gold Rush which date back to the late 1800s. The setting is based on encounters with the ghost of one Jack Darke, who was killed by a buzz saw at a sawmill built after the gold rush ended.
In December 2009, a Gold Coast Bulletin report detailed a variety of new attractions for the region's theme parks and stated that Dreamworld was in negotiations with a manufacturer to add to its "Big 6" thrill rides. In February 2011, Dreamworld's operator, Ardent Leisure, announced the addition of two new rides in 2011 as part of Dreamworld's 30th Birthday. In April 2011, it was announced that in addition to a family thrill ride (Shockwave which opened in June 2011), another major ride would be opened in time for the September school holidays. The name "BuzzSaw" was confirmed two months later by the park's outgoing CEO, Noel Dempsey, who also confirmed plans to team up with DreamWorks Animation. Vertical construction for BuzzSaw started around the same time.
On 20 July 2011, Dreamworld officially announced the addition of BuzzSaw to the Dreamworld park to the public. Testing for the ride began in early September 2011, and BuzzSaw opened officially to the public on 17 September 2011.
Marketing
Edit
Marketing for BuzzSaw began on 6 July 2011 when Dreamworld released a television commercial promoting their plans to open a "new bone-chilling thrill ride" by September of that year. At this stage, the name BuzzSaw had not been officially announced. A second television marketing campaign was released for BuzzSaw on 8 September 2011, just before its official opening on 17 September 2011. The commercial stated "this September fear will reach new heights". Banners around Dreamworld advertise BuzzSaw as a "ripper of a ride".